---
Welcome to the band side of my Danzig pages. It's mostly centered around what I consider "classic" Danzig - the first four albums. Maybe I'll have time for the rest later, but who cares?
navigation:
Main Shrine
|
Flyers
|

Gallery
|
The DANZIG Handbook
|

Links
This page is image-heavy and might take a minute to load.
---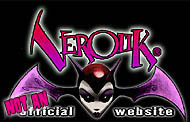 "Danzig is an American heavy metal band led by former Samhain and Misfits singer Glenn Danzig. Formed in 1987 in Lodi, New Jersey, the group early on became a unique voice in the rock scene, playing a bluesy, doom-laden metal with Glenn Danzig crooning in the style of Roy Orbison and Elvis Presley."
---
my faves:
favorite album:
Lucifuge (Danzig II)
favorite song(s):
Tired of Being Alive, Not of This World, Sistinas
Honorable mention goes to How The Gods Kill for being fun to sing along to.
favorite music video:
the original/unrated video for Mother
...because the rest are so cheesy I die a little
classic
Lineup:

Glenn Danzig
lead vocals

Eerie Von
bass, backing vocals

Chuck Biscuits
drums

John Christ
lead guitar, backing vocals
---
current
Lineup:

Glenn Danzig
lead vocals

Steve Zing
bass, backing vocals

Johnny Kelly
drums

Tommy Victor
lead guitar
---
the "danzig handbook"
The "Danzig Handbook" was a promo booklet included with the
Mother '93
single release. It came folded up with the CD sleeve, & was available on 4 different papers, including purple - which I have here to share via
the Magic of Archive.org
.
My favorite
section is probably
"A Day In The Life of DANZIG"
especially for Eerie Von's schedule. The whole thing just absolutely reeks with 90s cheese, like - the inclusion of Beavis & Butthead? Immaculate. I'm amazed that someone spent time putting this together & getting it approved,
and
that someone deemed it necessary to include a recipe for
"Thrall Bars™"
. I personally could have done without the mention of underage girls in John Christs schedule page, but hey - it was 1993 & I can see that passing as humor to a label exec, and the ridiculousness of the rest of the pages make up for it IMHO.
Click on images to view full size.
---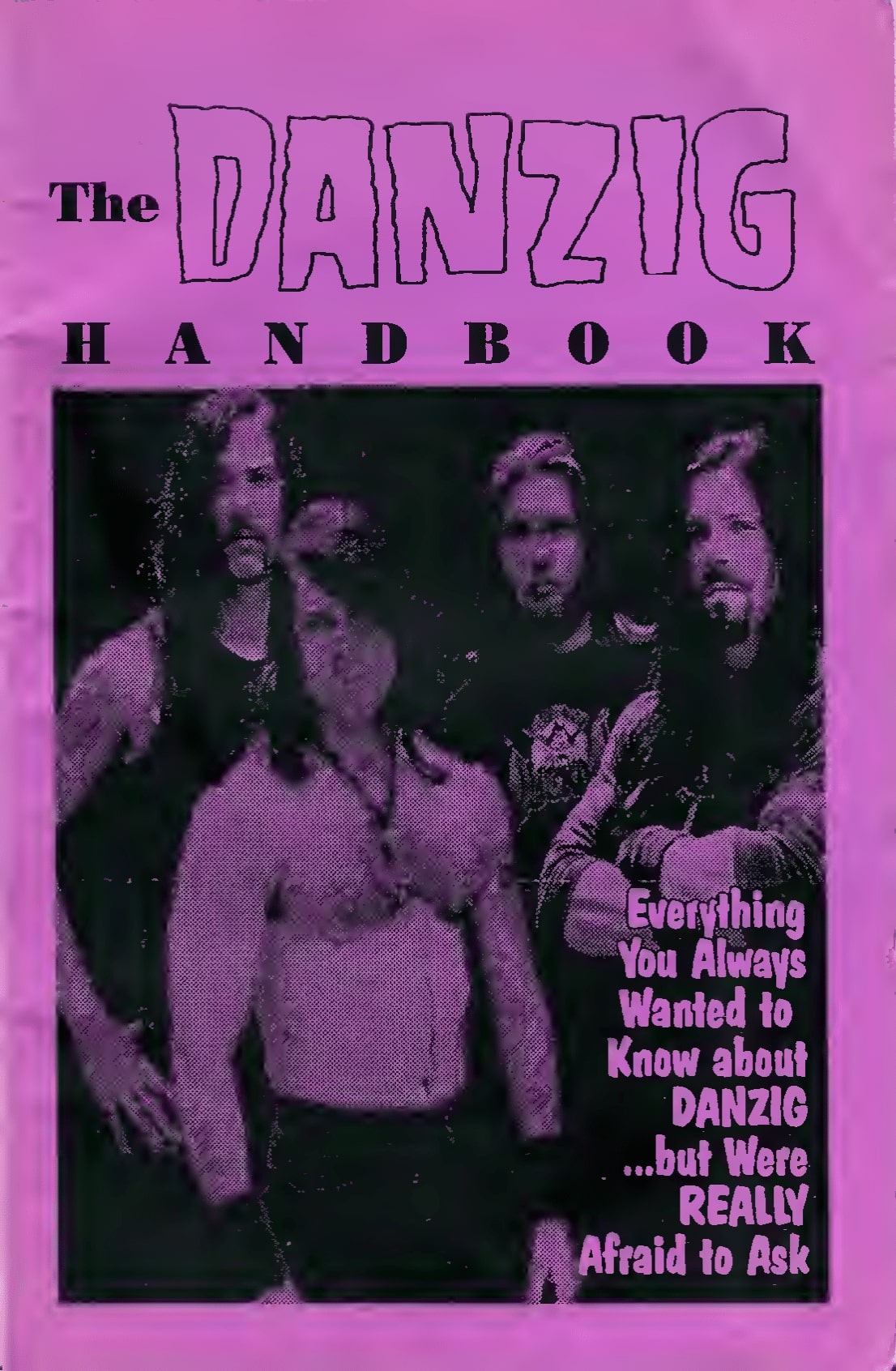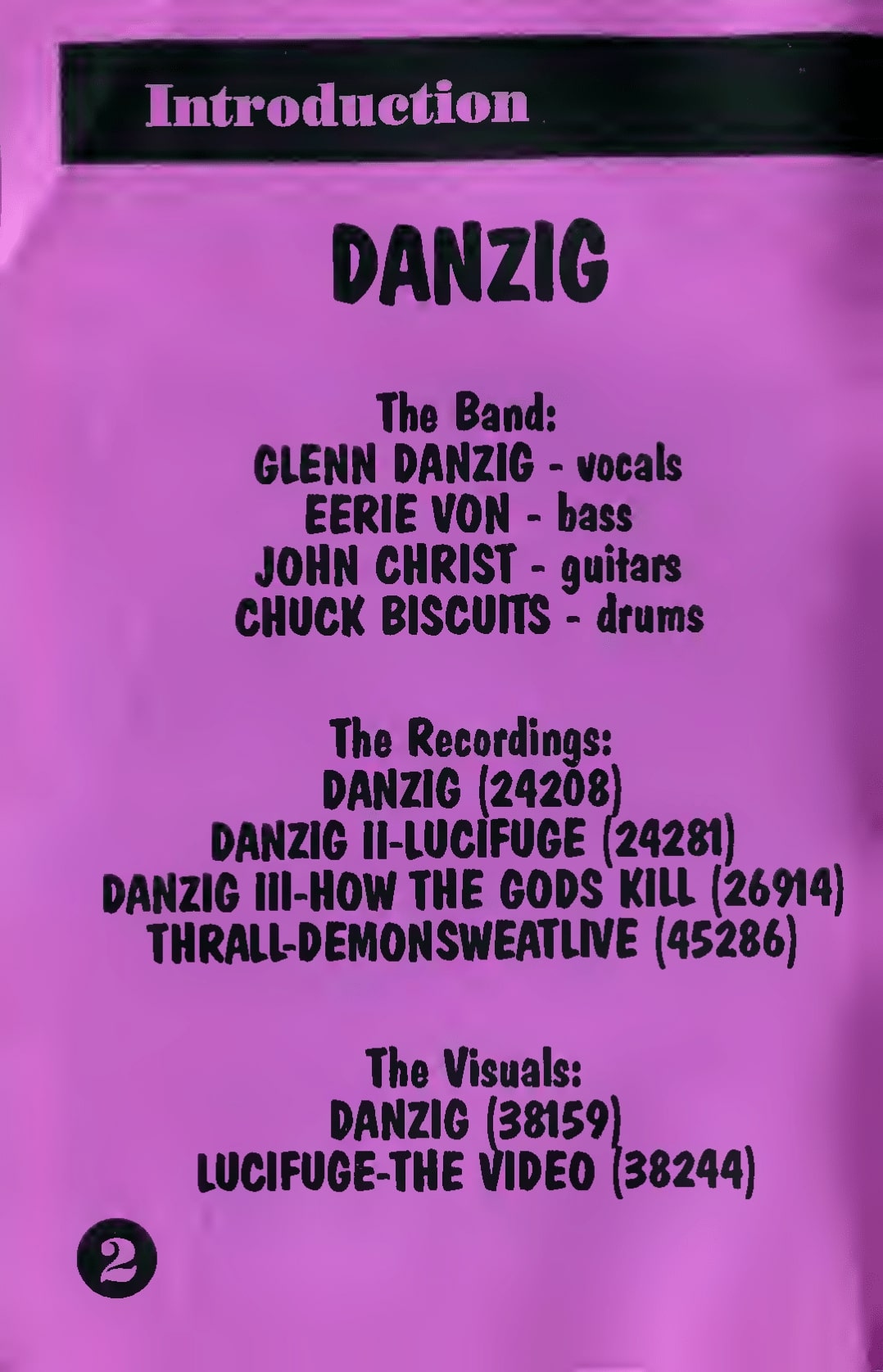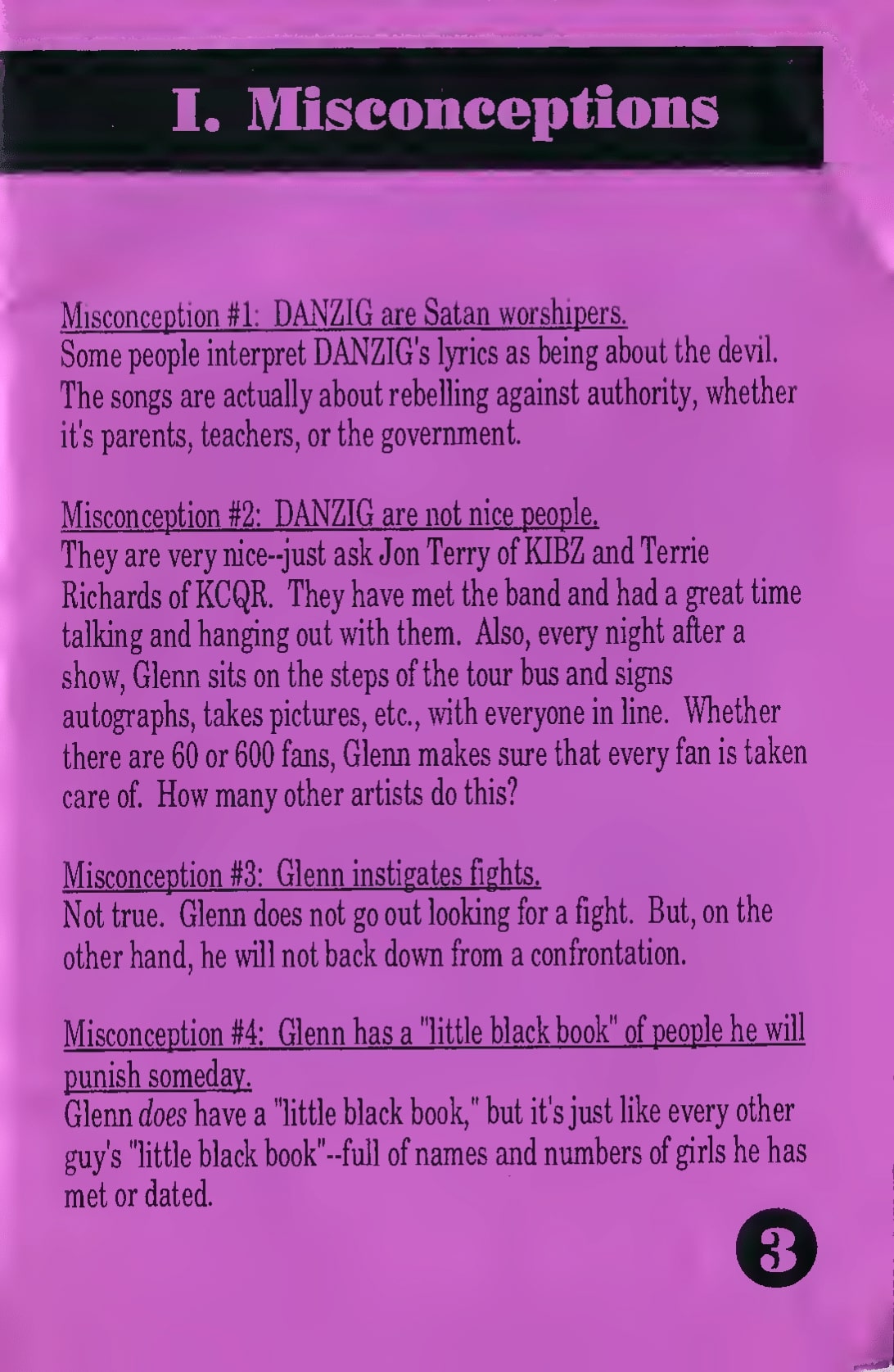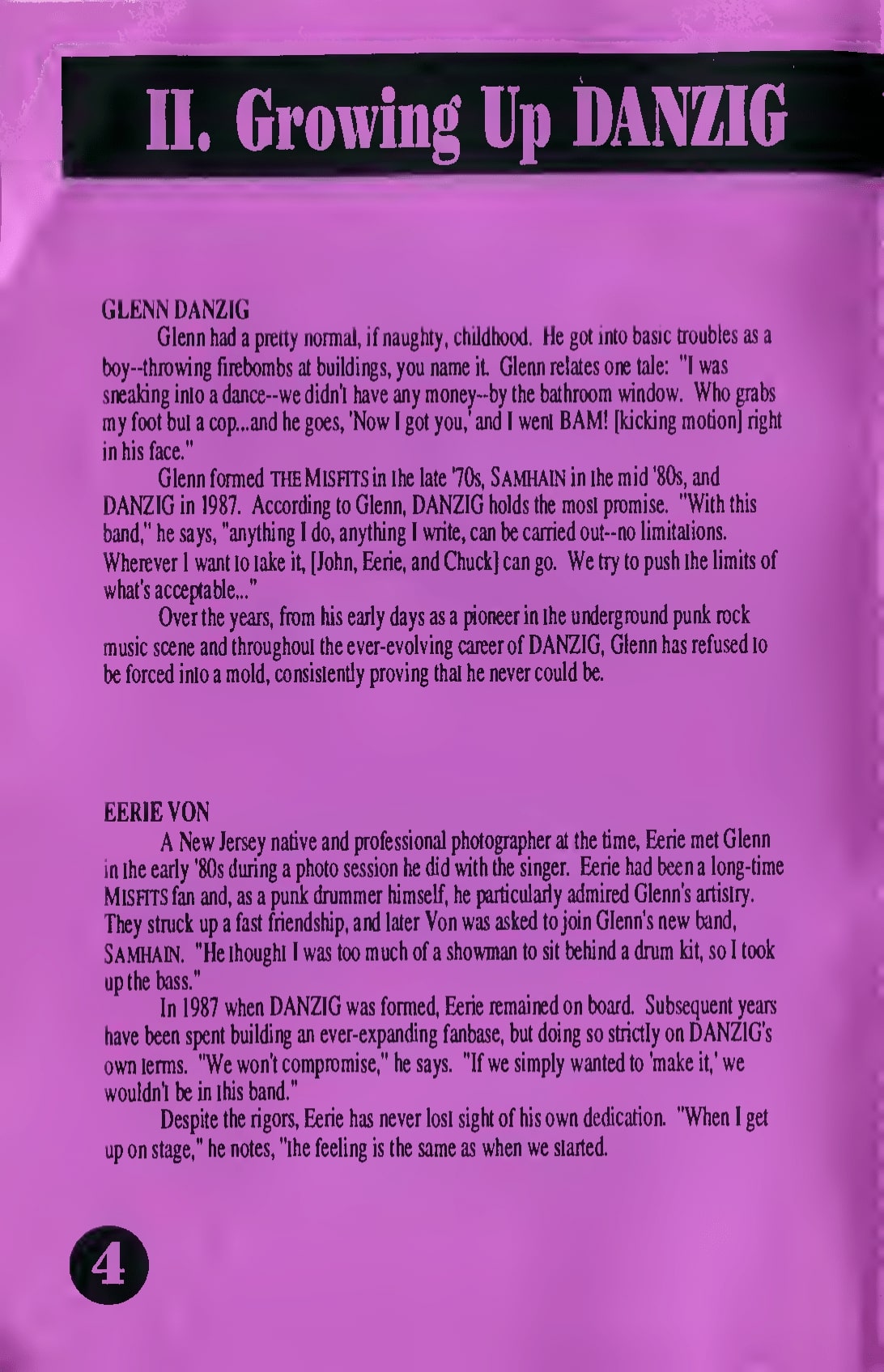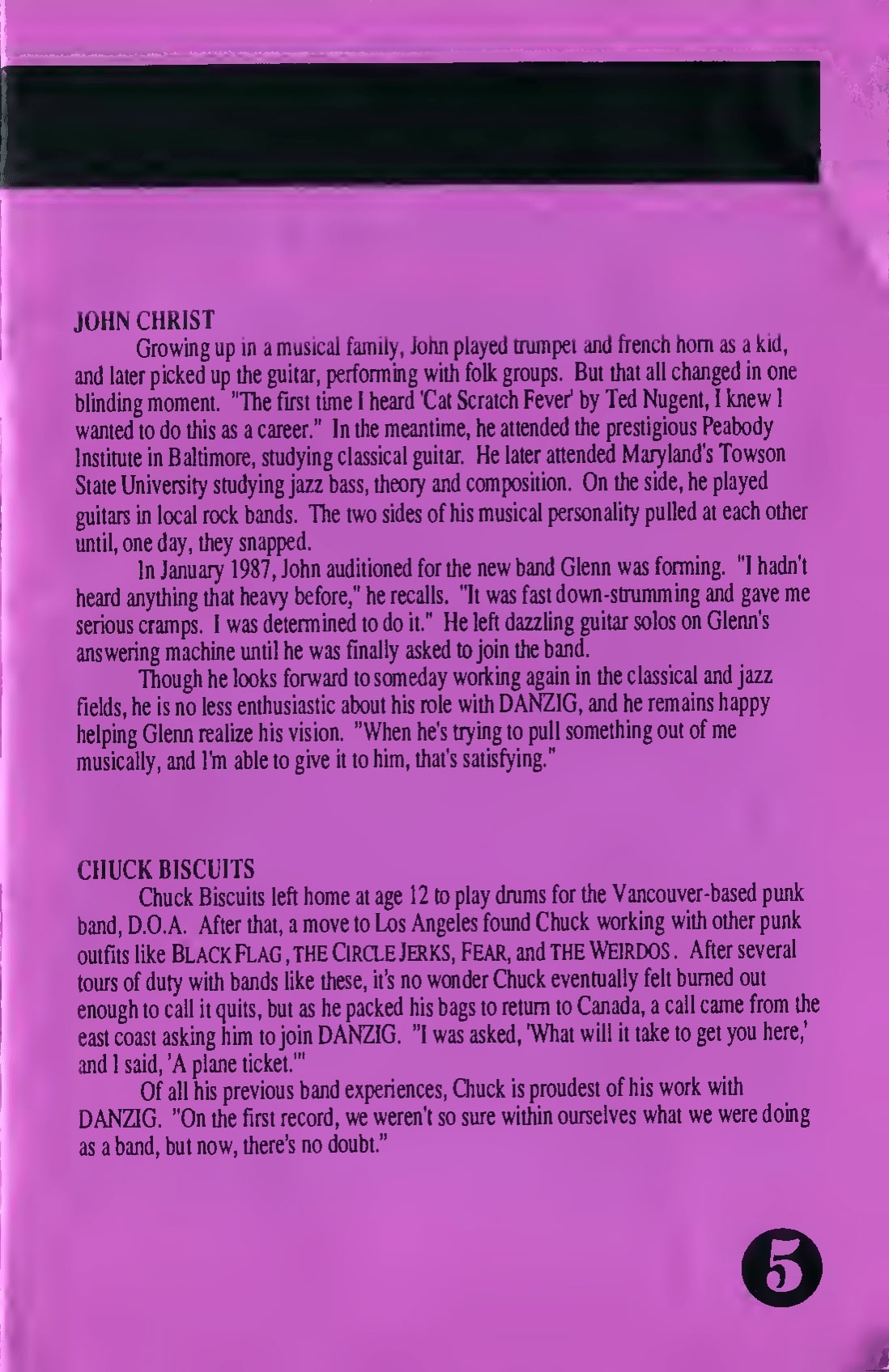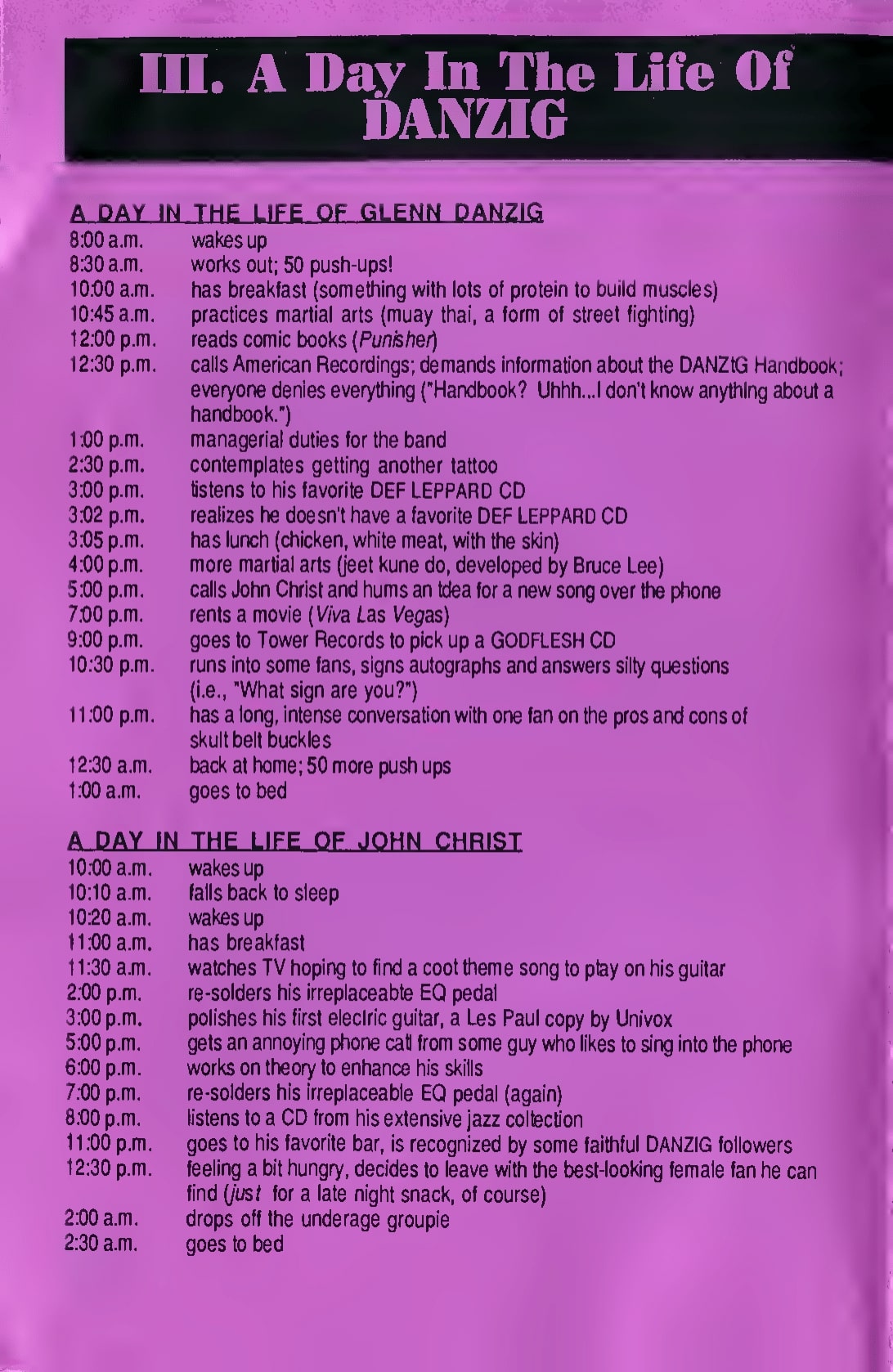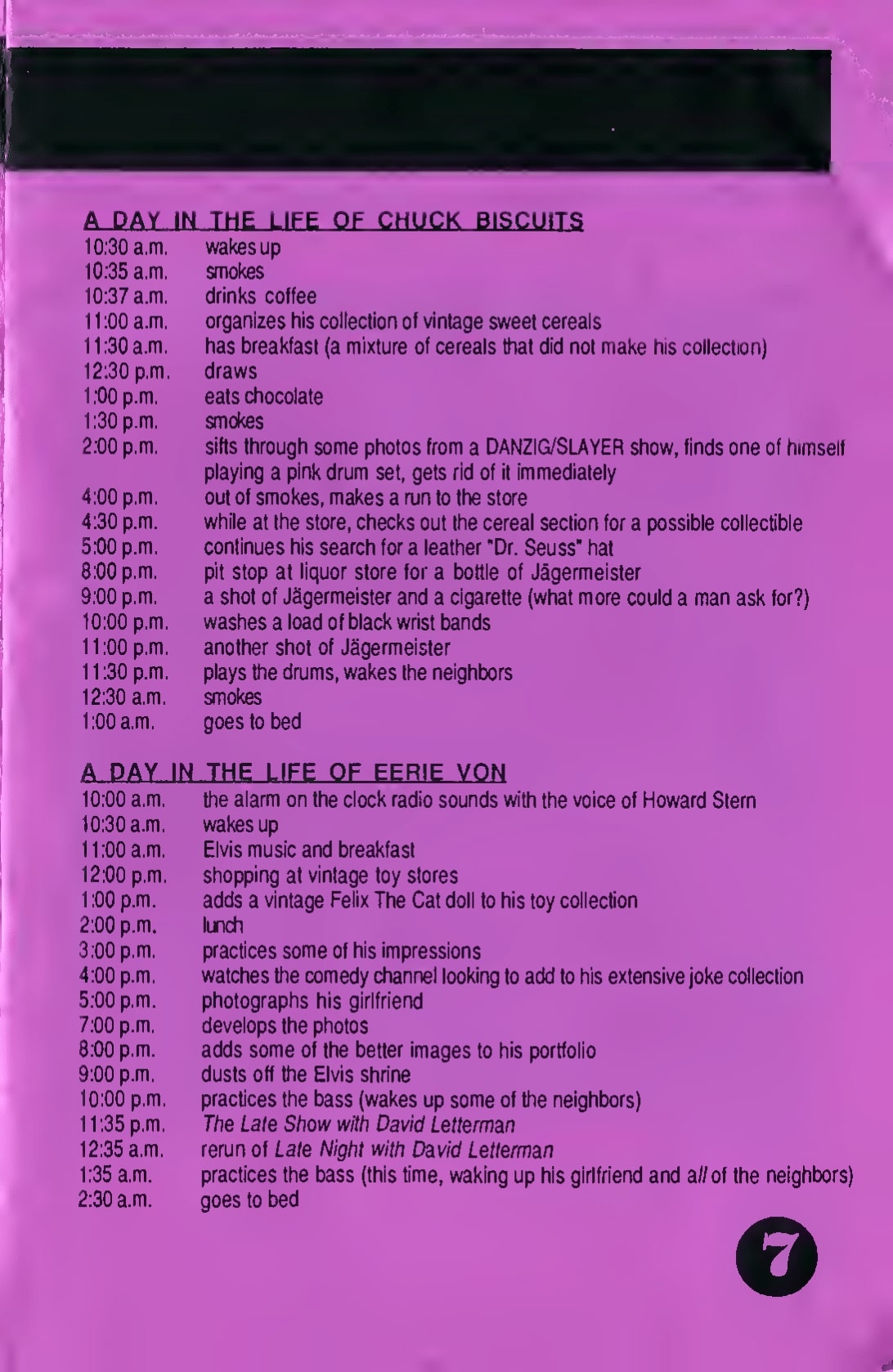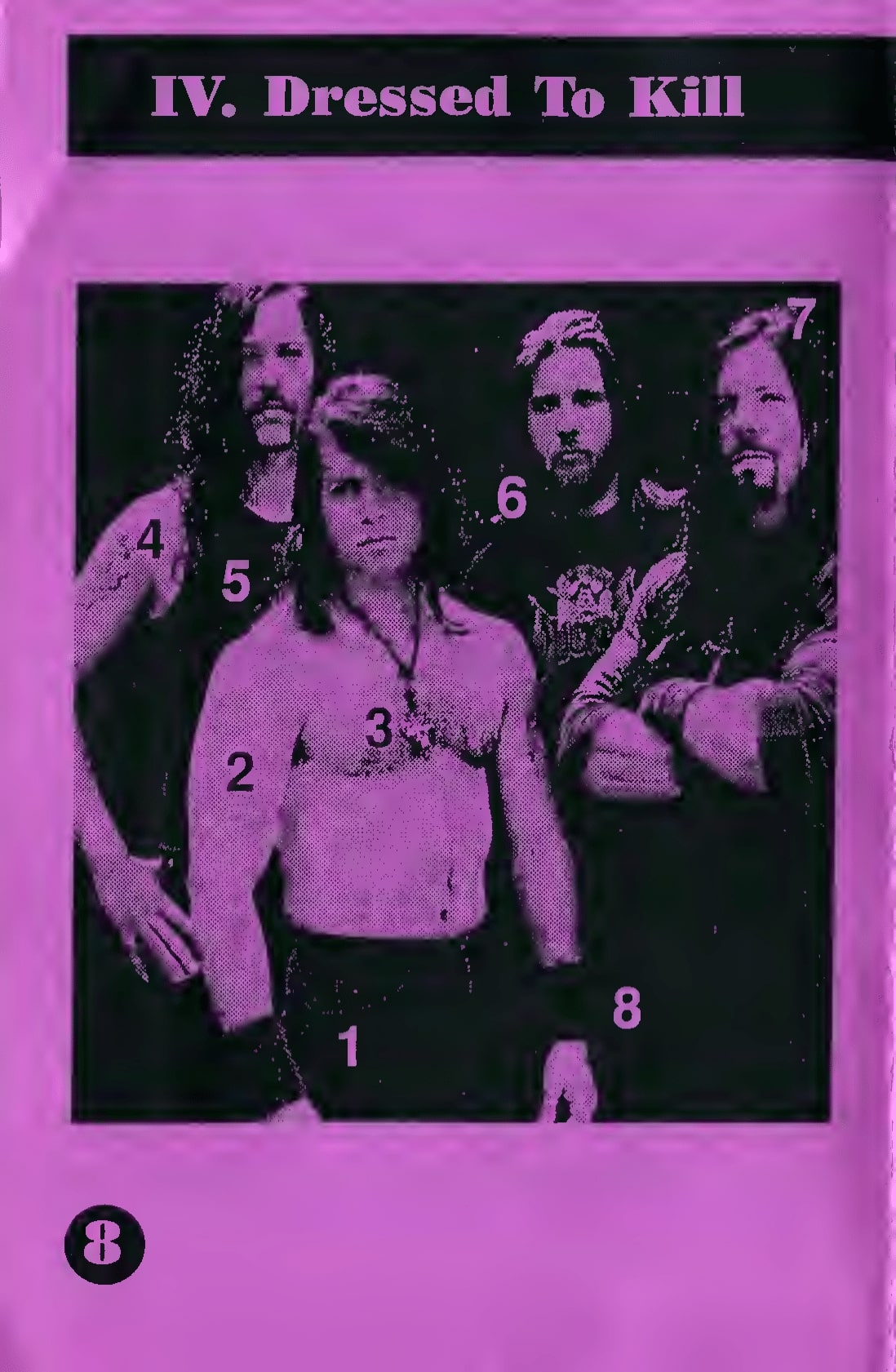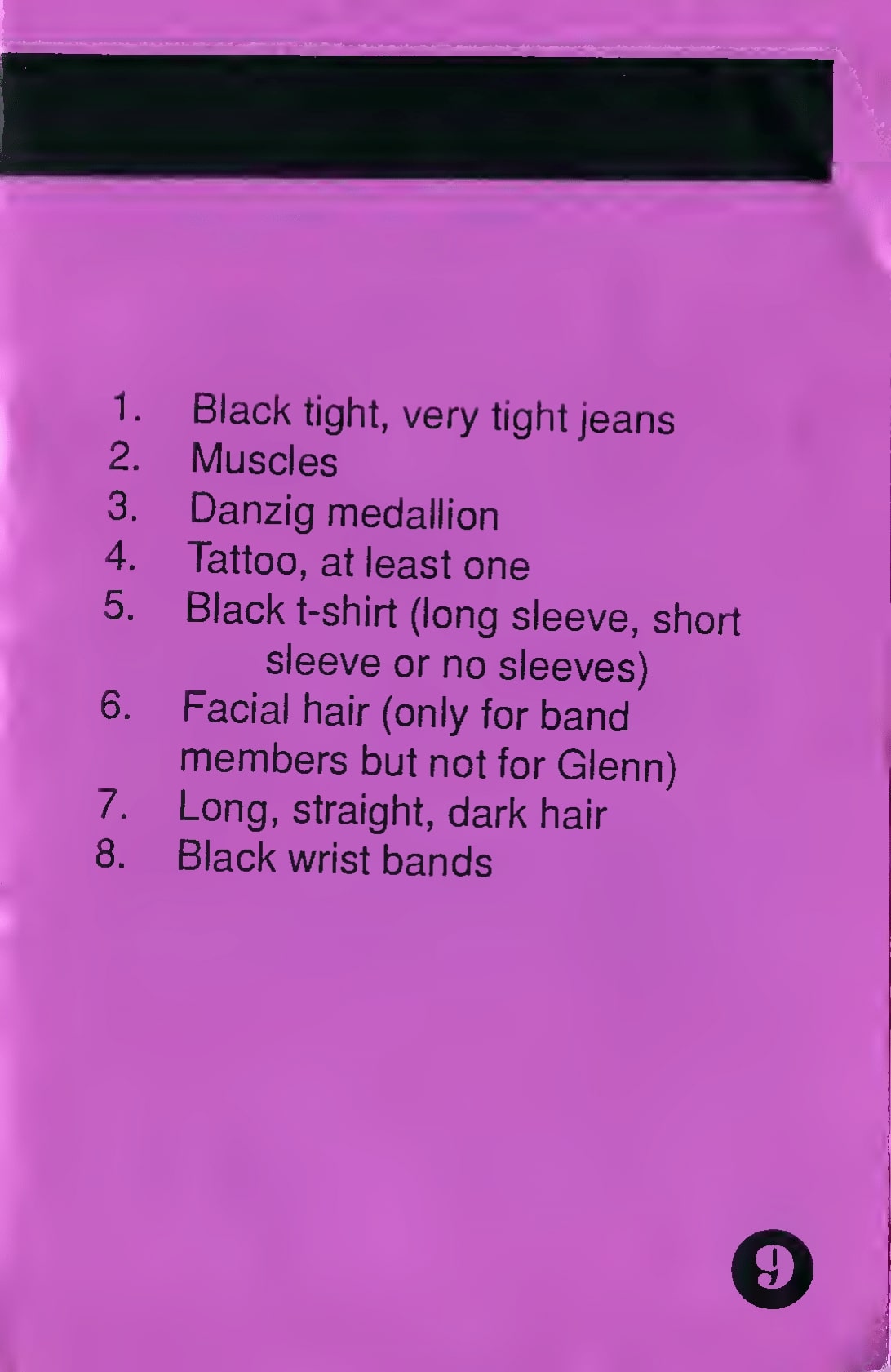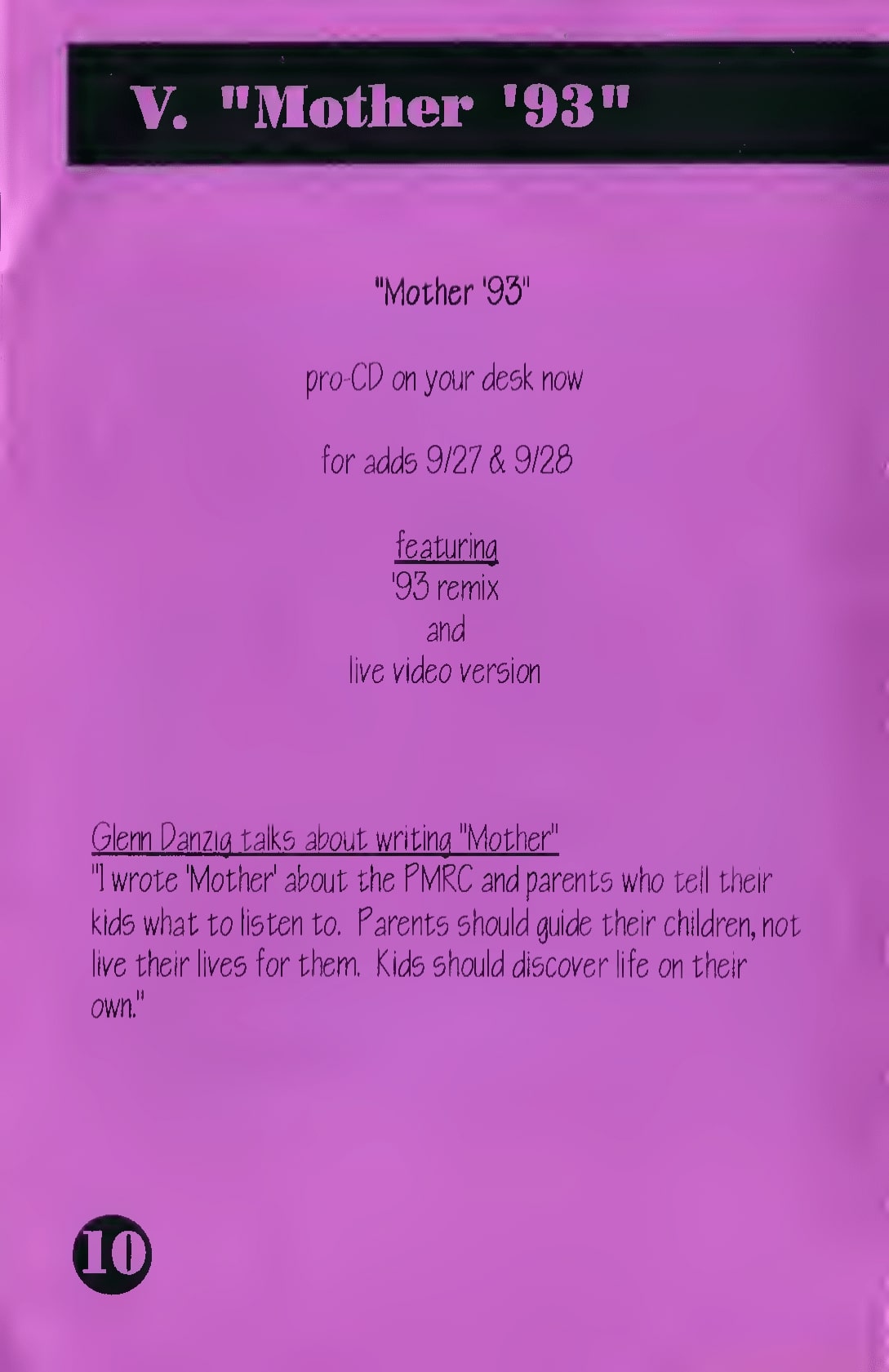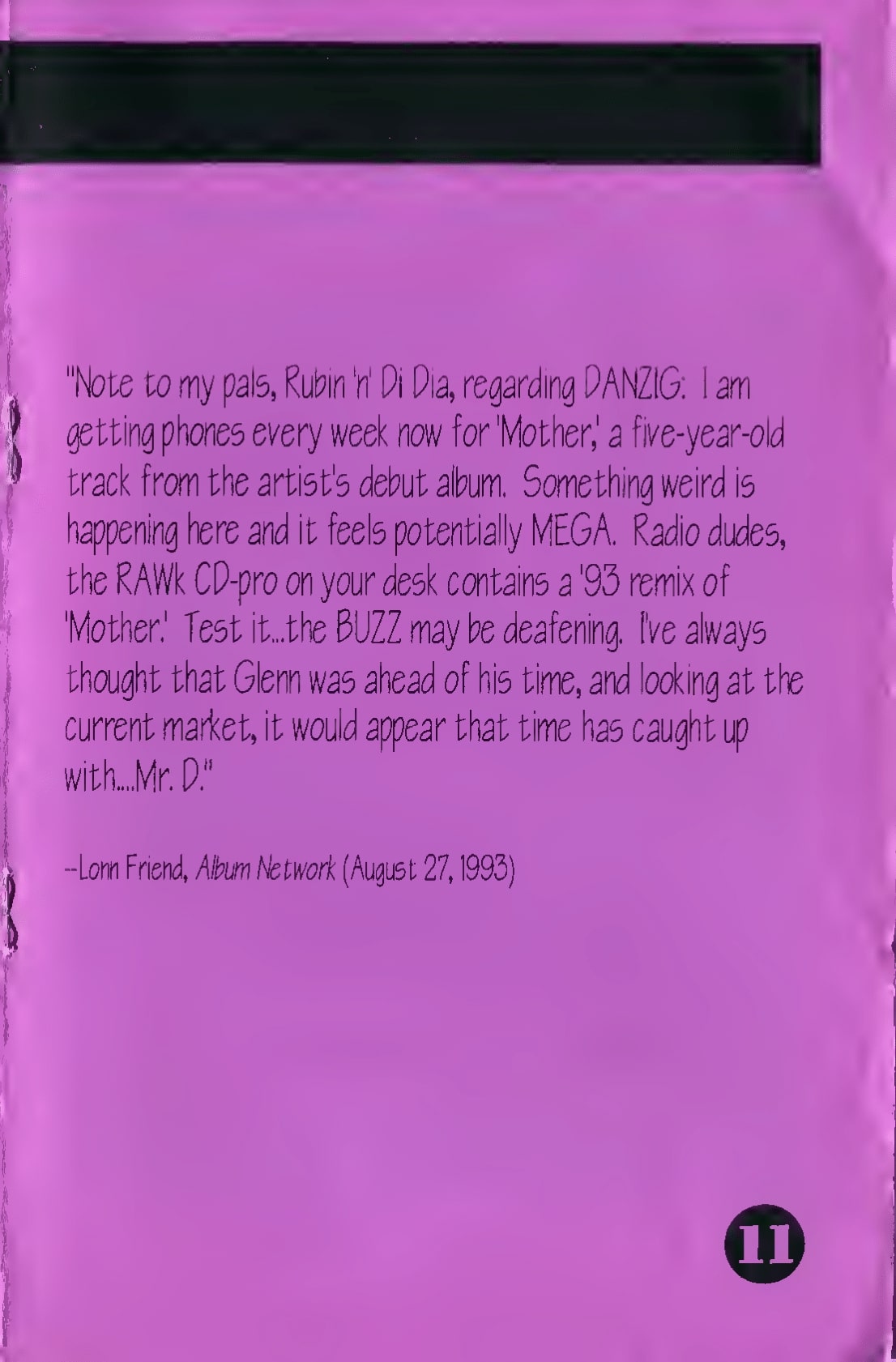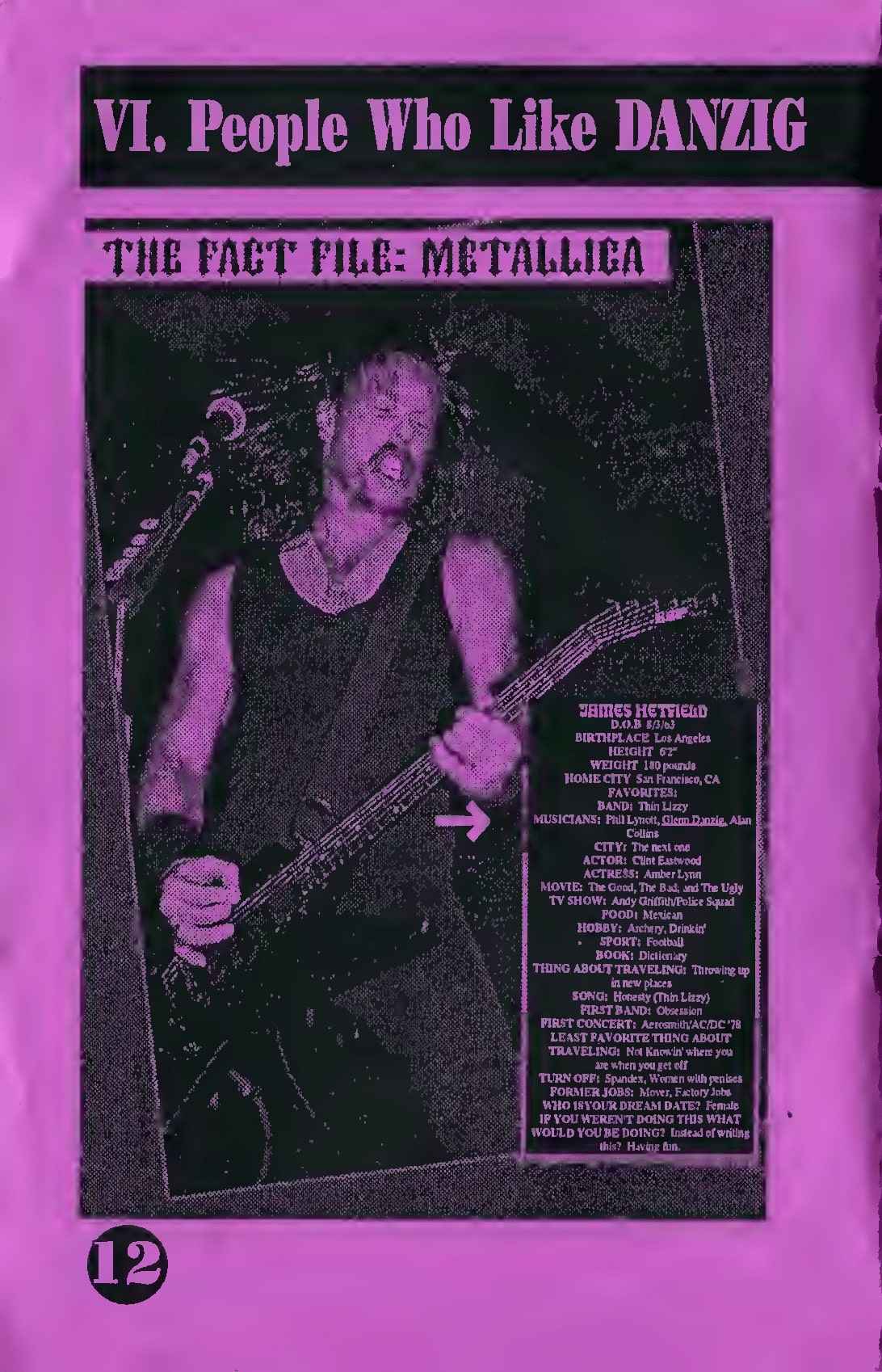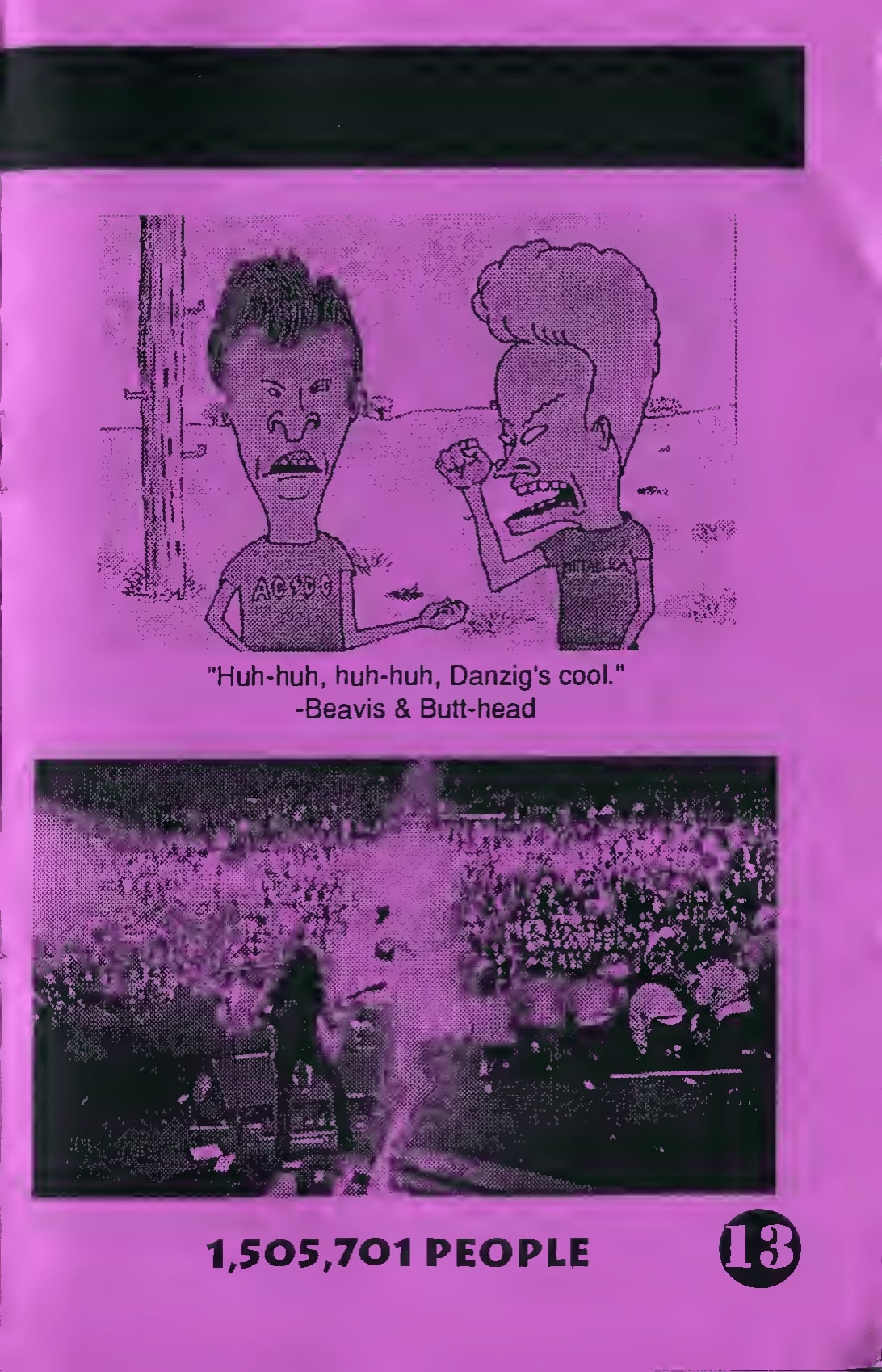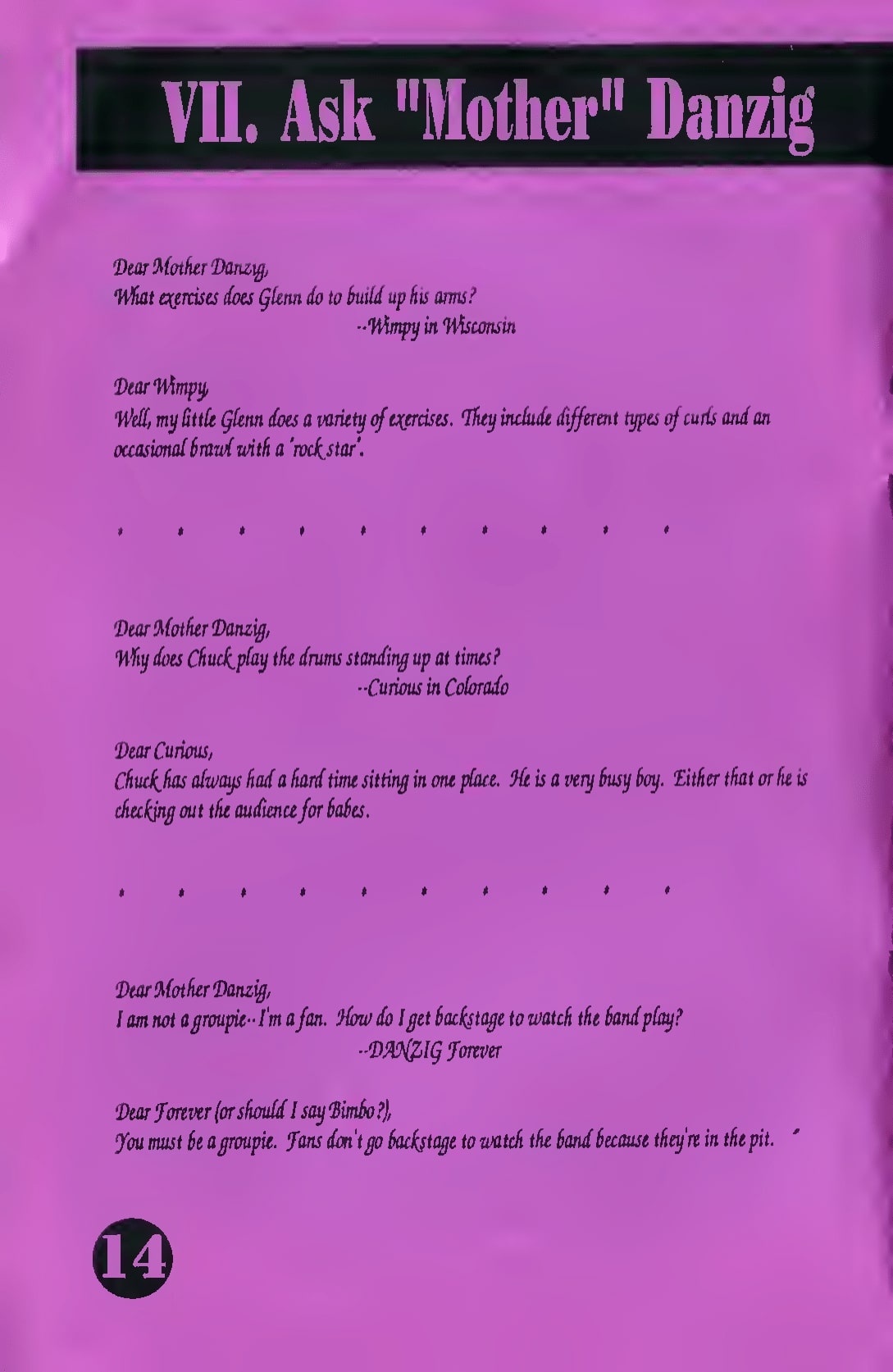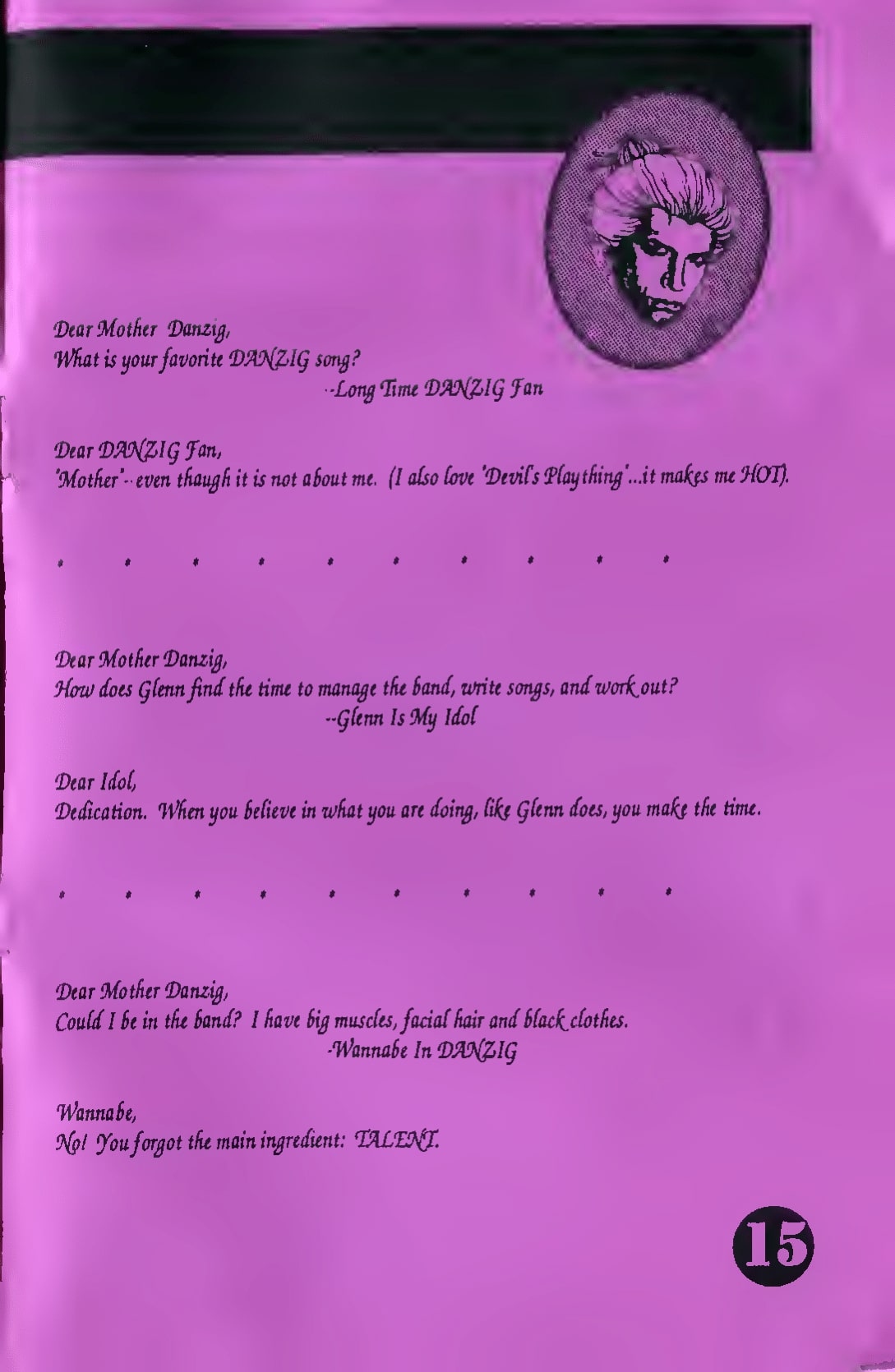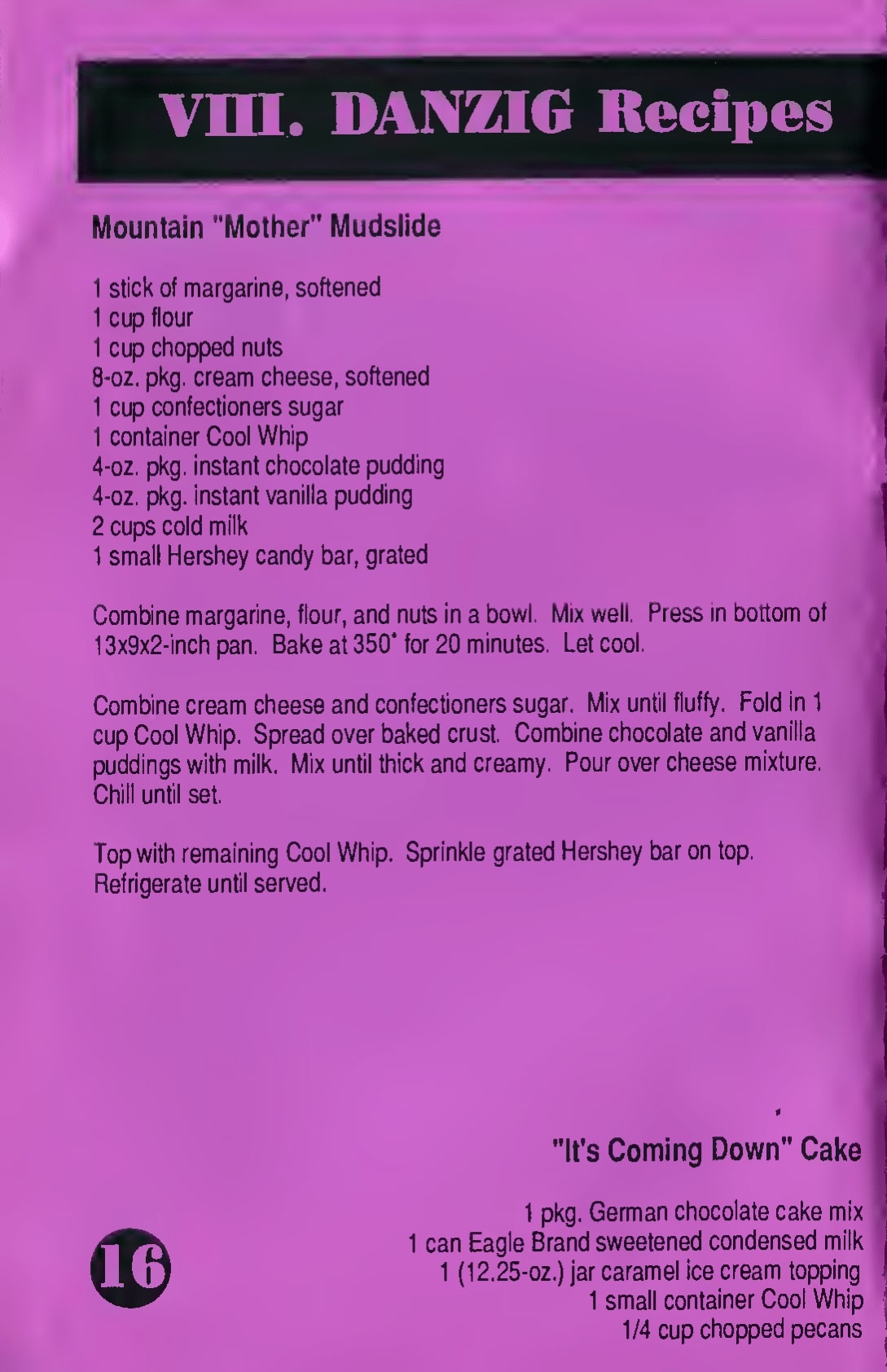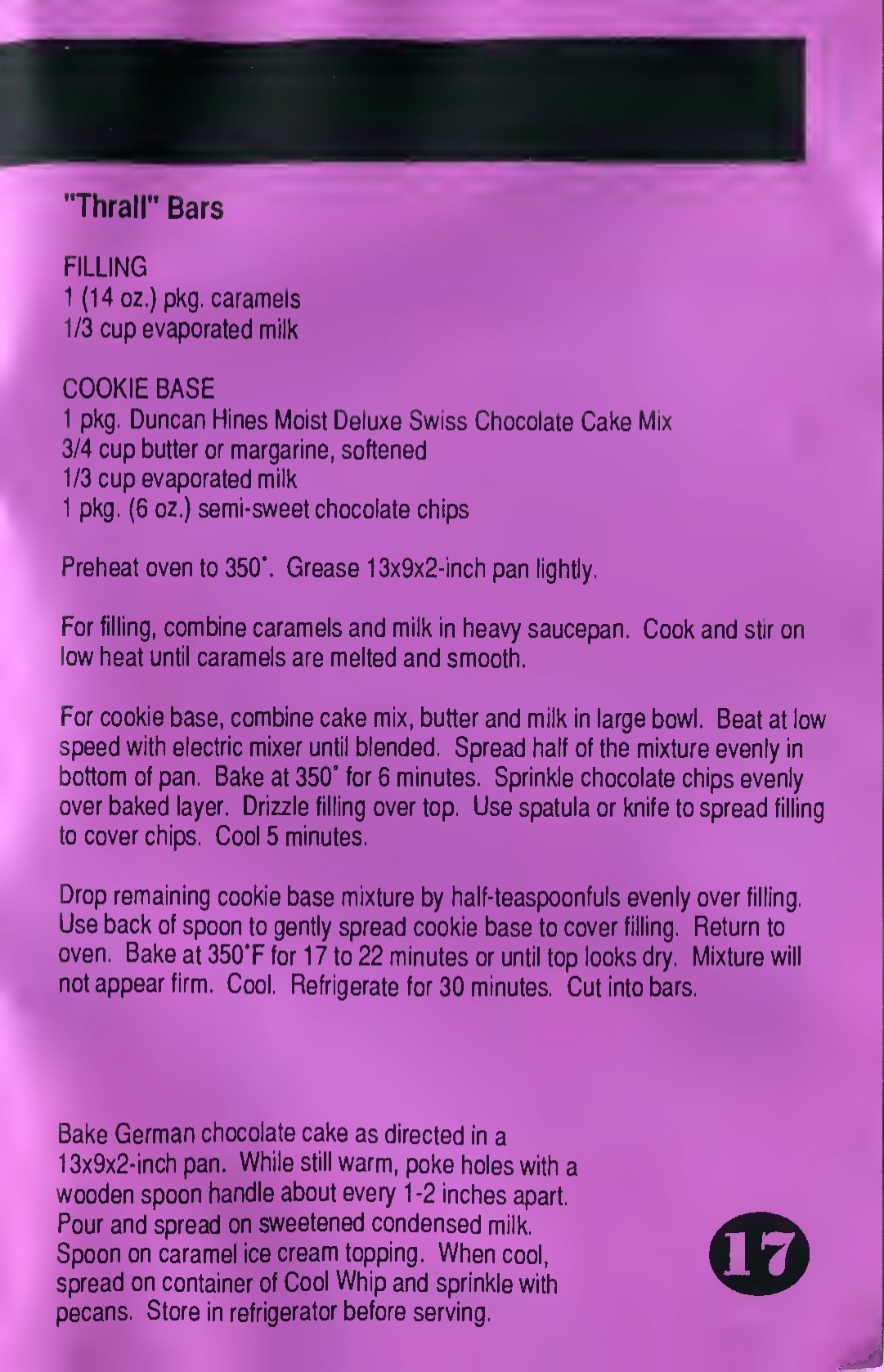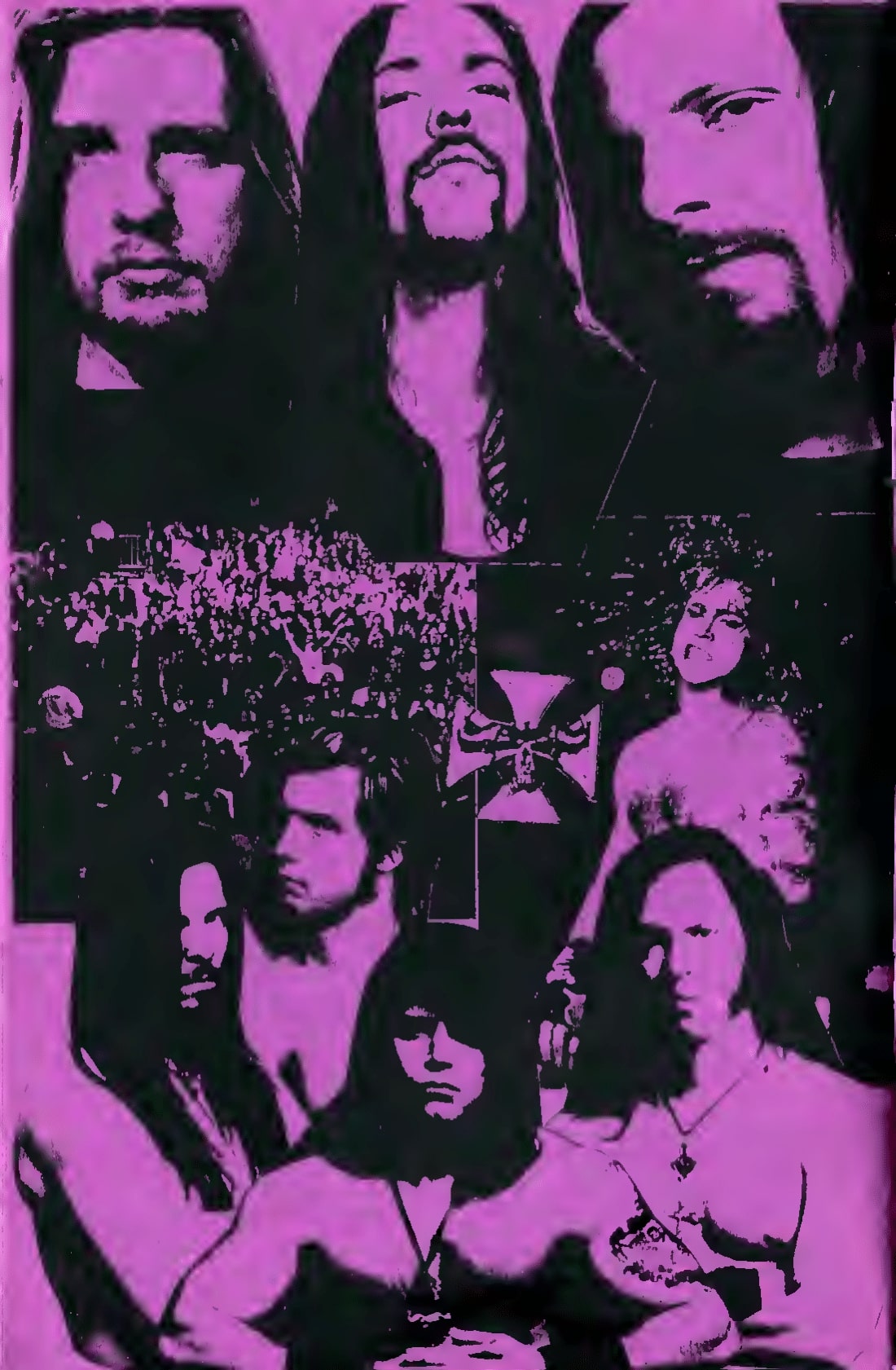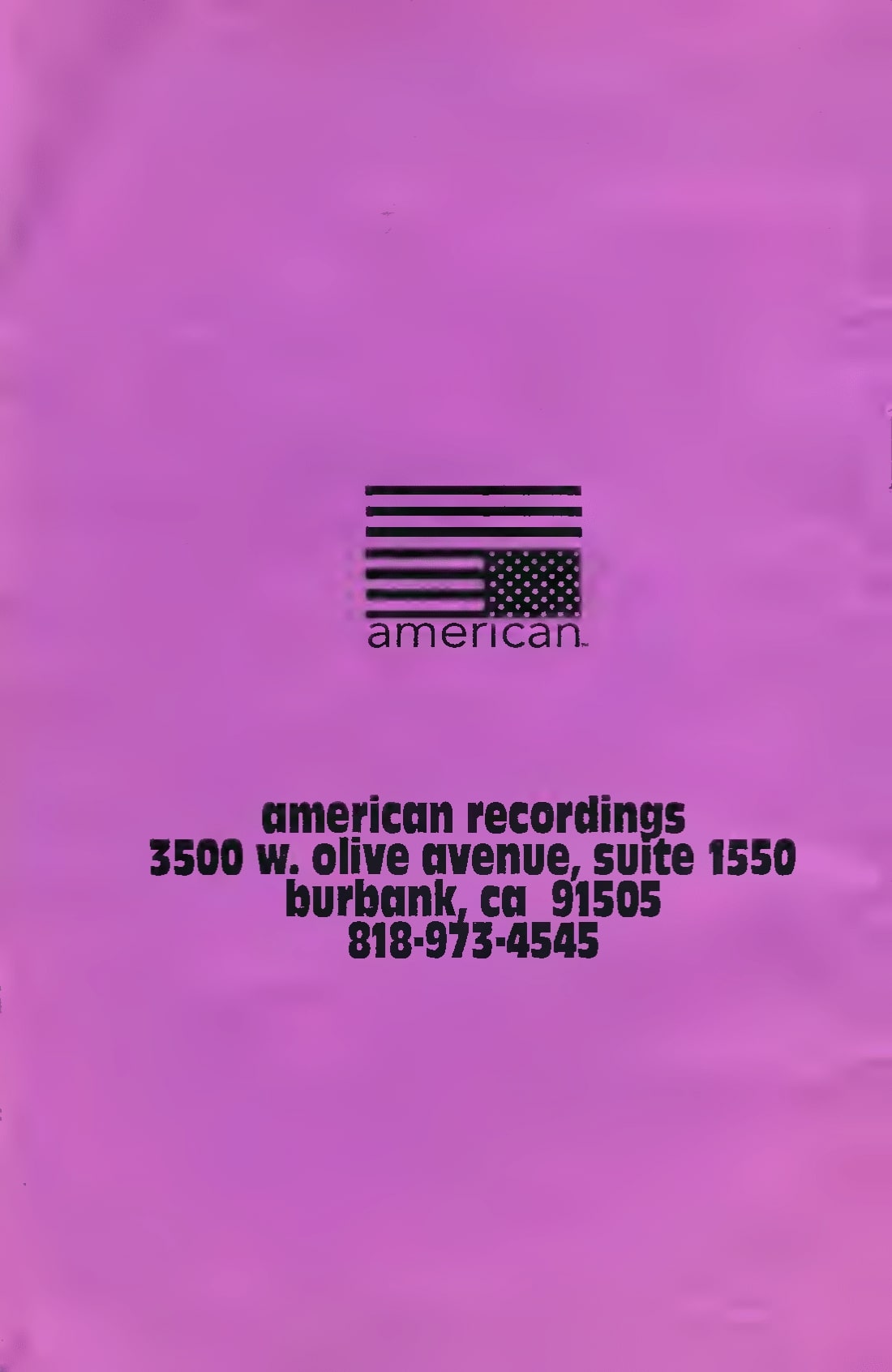 gallery
---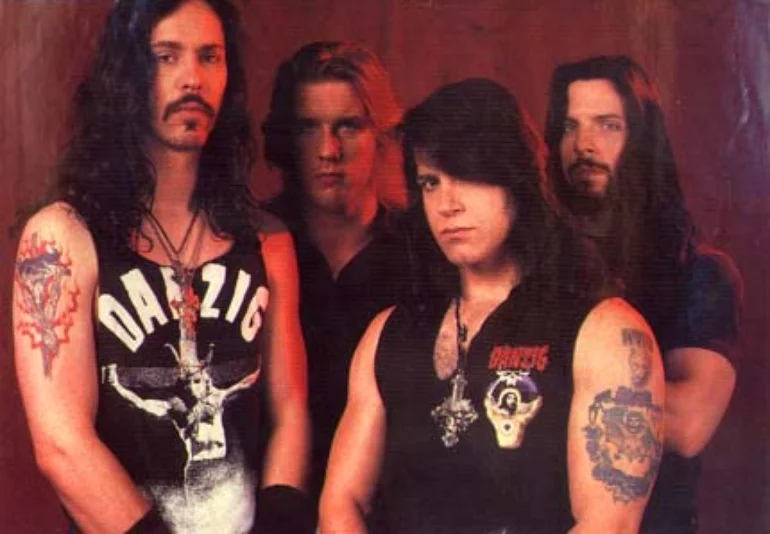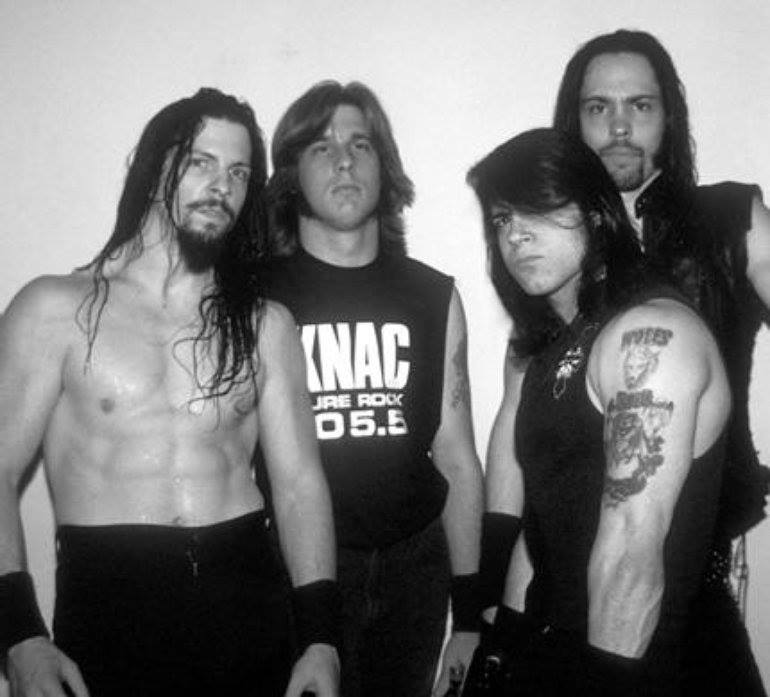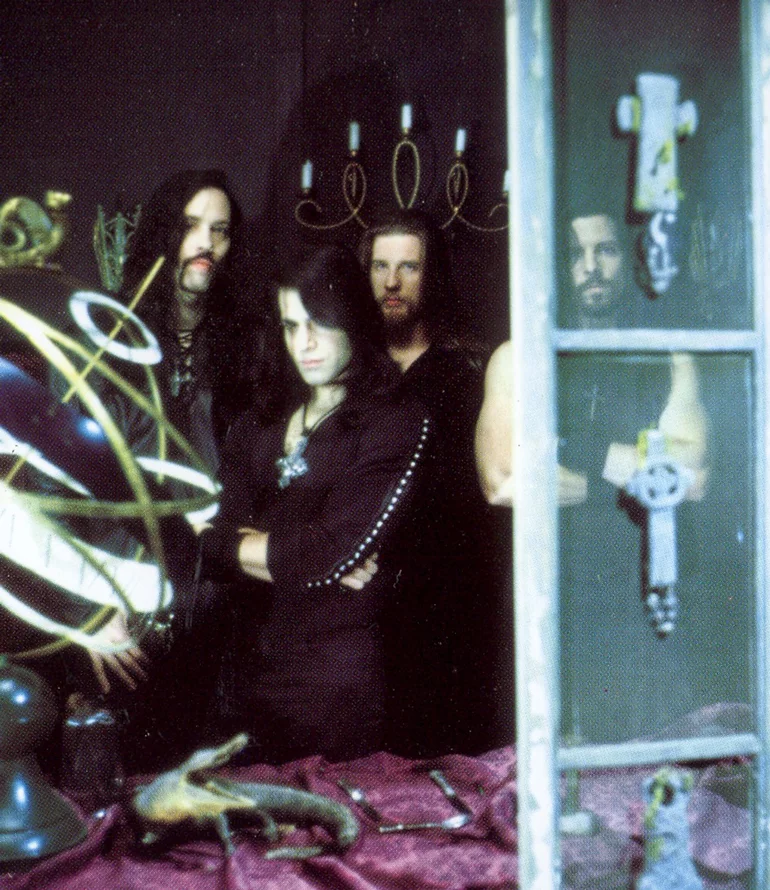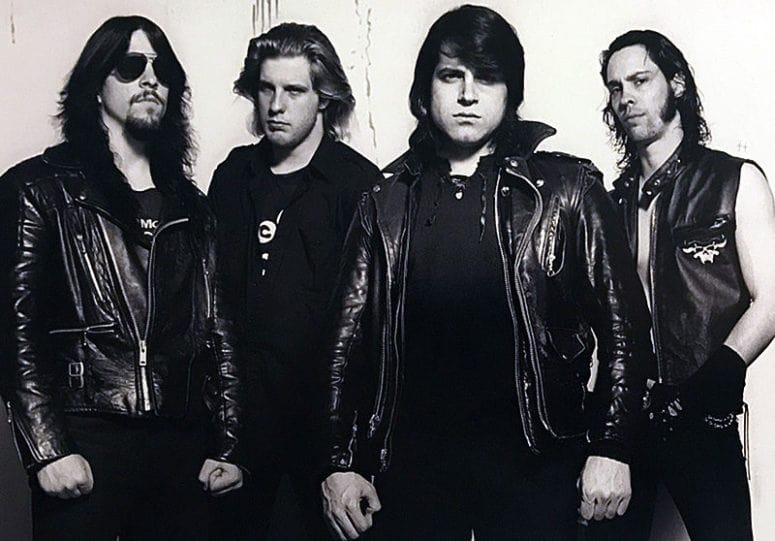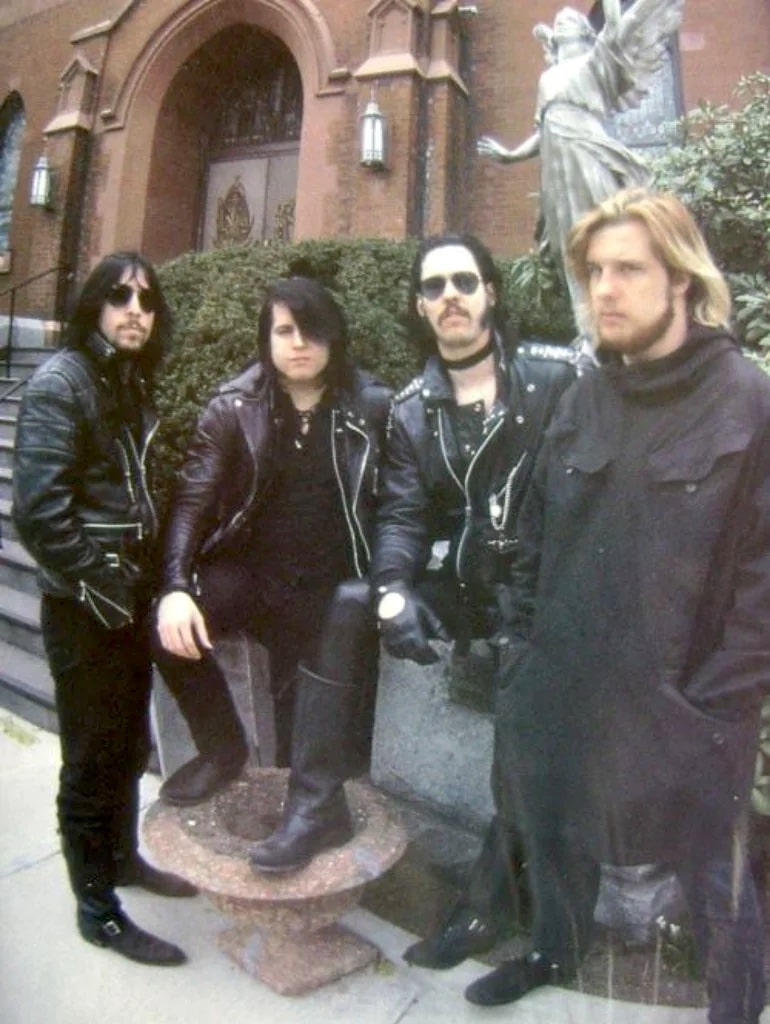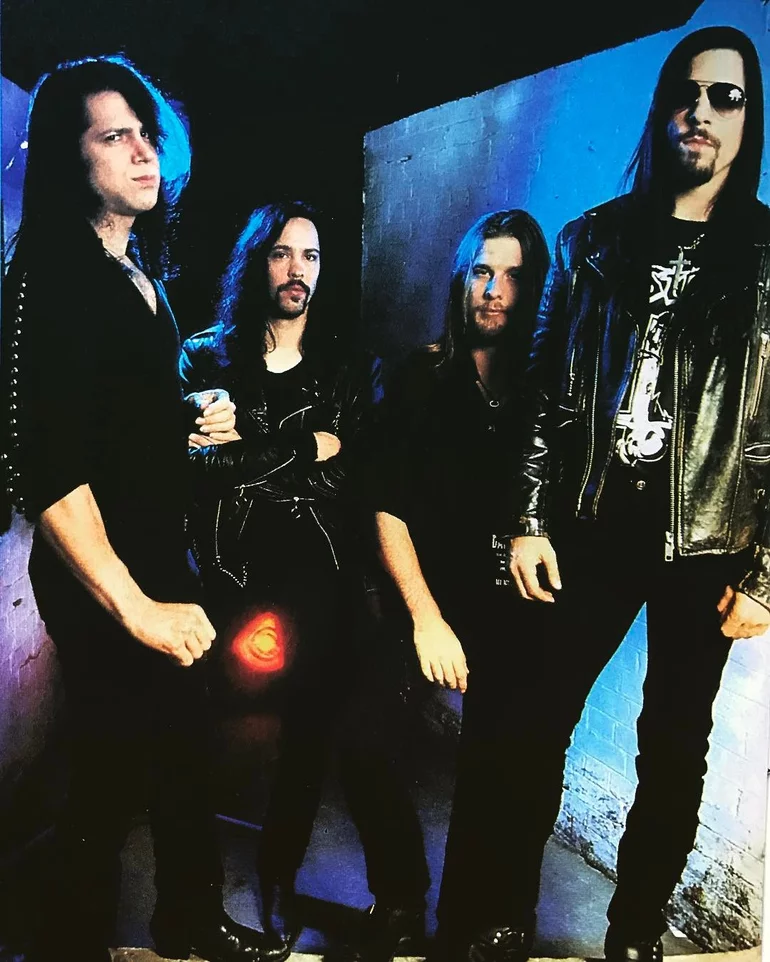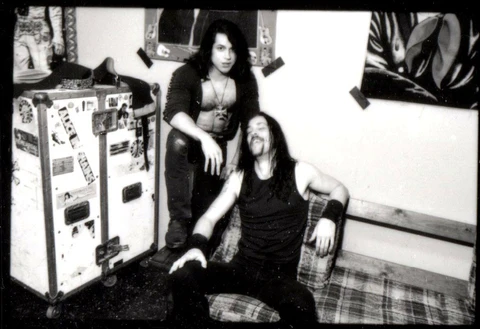 ---
cool links:

Eerie Von's Facebook
- He talks a lot about music, & is always sharing old photos. Dude is so sweet.

Audio recording of the "first" Danzig show (City Gardens, NJ - 1988)
Part 1
Part 2
Part 3
Part 4
(Don't expect much from the sound quality, I just thought it was cool)

Danzig VHS, 1990
Part home-movie, part music, if I only had access to one Danzig related video it would be this one.

Lucifuge VHS
Same idea, still pretty classic.

2010-ish Thrasher interview
Short, Glenn's just an asshole though 99% of it so I got a laugh.

"I'm The King Wolf: Danzig II: Lucifuge At 30"
article

Current official Danzig site
I mean, I guess it's cool.